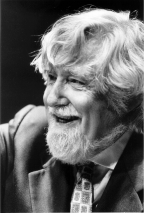 Clifford Geertz
© IAS Princeton
more photos
Publications:
* navigation by year:
see bottom frame.

Beware of errone-
ous & incomplete
Chinese pirate copies.

Other material:

Geertz-German (Bautz)
(by Sigurd Bergmann)
more Geertz-Links
(work in progress)
see also:
Our Sponsors:
Kulturinstitut JKU
OeGS Kulturtheorie
JKU University Linz
_________________
This page is part
of HyperGeertz (HTM)*
* HyperGeertz is a
protected Hypertext-
Trademark (HTM)
by Austrian law
(UrhRG 1936 idgF 2018,
Par. 21 & 24 iVm 40a).